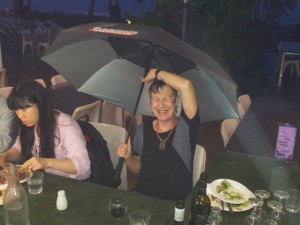 40 years ago on Christmas Eve, Cyclone Tracy ripped through Darwin.  The ferocious winds and torrential sideways rain tore apart buildings, stripped the leaves from the trees and caused unforgettable damage.  Sheets of metal screamed into buildings, cars were upended, people huddled in cupboards under the stairs.
I've just been down to the Cyclone Tracy exhibit at the Museum & Art Gallery of the Northern Territory to see movies and photos that vividly tell the story of that fateful night.  To commemorate the birthday, a railway signal tower, originally part of the Palmerston to Pine Creek railway, has been taken out of storage and installed.  It's bent and twisted.  And pieces of iron sheeting are still wedged into the steelwork.  This is not a sculpture, it's the real thing.
Alongside the Museum, at Tactile Arts there's a mural entitled "Twister" installed on the exterior walls of the gallery.  Created by Franck Gohier, it is a clever play on words.