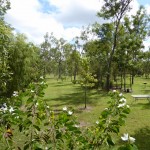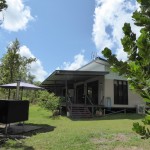 The best café in the bush – the flyer says. I love discovering and experiencing new places during the Wet season so the next day we head out to Corroboree Tavern. Sure enough Purple Mango Café is a gem.
It's off the beaten track (but on the way to Kakadu) and hidden in the trees with a deck that overlooks the bird bath, green grass (perfect for camping) and more trees. The funky pizza oven sits off to the side and the warm smell of bread wafts through the air mingling with the smell of coffee. The espresso machine is on!
Fruit platters, with bees creek honey and yoghurt are delightfully served with each ingredient in it's own little bowl. Soon after Big Breakfast pizzas arrive to share, with eggs and sausages, bacon, tomatoes and mushrooms overlapping on a thin crusty pizza.
Time moves on slowly. We order more coffees, blueberry and chocolate muffins cool in the baking tins, and Helen and I decide to share a fluffy banana pancake with ice cream and home-made caramel sauce.
Two hours later Ken and I reluctantly leave but we add Fogg Dam to the itinerary to have a full days excursion from Darwin. Our friends, Helen and Vin, continued their journey to Jabiru to spend the weekend in Kakadu National Park.
On the way to Purple Mango Cafe
Turn off the Stuart Highway and before long the wetlands dominate the landscape. The view – multi shades of green with cream coloured grasses and red reeds interspersed with pools of water. Some I call billabongs with mauve lilies and an occasional bird, some just trickles between the grasses.  The wetlands give way to pandanas trees and the edge of the road is fringed with tall reeds. There's a rest area overlooking the floodplain, just before the Windows on the Wetland visitors centre.
Check the website for directions, it's a little contorted but well worth the effort.