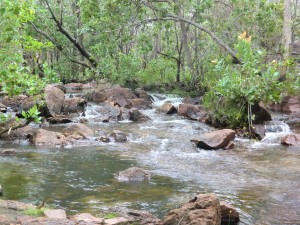 It's a treat to be in the bush, away from the heat of the city where the creek waters gallop round the rocks and little waterfalls rush around the trees.  Slide down the bank (it's only shallow) and cool off in the rock pools but be careful as during the Wet season the current is strong and it's hard to hang onto the rocky ledges.
Take a picnic and settle down with the weekend papers, capturing the shade from the paperbark trees.
We are up river from Florence Falls in the middle of Litchfield National Park, about 150 kms from Darwin.