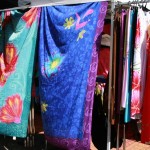 Join the locals in this unique Darwin suburb with its village atmosphere and renowned food and craft market. Everyone flocks to Parap markets on a Saturday morning, to saunter around the stalls, to pick up a local trinket or two, to chill and catch up with friends. The suburb's penchant for food overflows into some must-visit cafes, restaurants and delis. Wander some more and discover great gift shops, homewares and clothes for him and her.
Parap also has some of the best collections of Aboriginal galleries in Darwin. In other words, do not miss visiting this friendly and fascinating suburb.
Country Classics
Check out the new range of Metalicus, these gorgeous stretchable clothes are perfect for travel. Or select a new cocktail dress or pair of shorts. There are stylish clothes and accessories for all occasions, for both men and women.
Paraphernalia
Wander through this gift shop, then wander around again. Every time find something new, some luxury lavender goodies for Mum, colourful ceramic plates for the house-warming or funky pieces of kitchen accessory.
Nomad
Specialising in a diverse range of remote Aboriginal art and craft sourced from art centres in the Top End of Australia. Slide out the narrow drawers that contain limited edition prints, screen prints and etchings. Browse the beautiful woven baskets from Injalak Community and Tjanpi Desert Weavers or select a one-off embroidered cushion cover or rug. I also love the unique jewellery and the colourful range of fabrics.
Outstation
The space is plain with concrete floors and white walls that show off the high quality artwork. Sit for a while, surrounded by just a few, but special paintings. Colours jump off the walls, too involved and too unique to describe. Outstation exhibits and sells a diverse range of Aboriginal art work from both emerging and established Aboriginal artists. It represents a number of remote art centres mainly in the Northern Territory, Tiwi Islands and Western Australia.
Framed
On the main highway between the City and Parap, this gallery is huge, elegant and stylish. Aboriginal designed lacquered boxes, colourful and bold sit alongside carved wooden spirits and beautiful woven baskets. The Australiana Collection of jewellery is a perfect memento – plants, animals and legends beautifully crafted in silver or silver-gold plate. There are forever changing exhibitions of fine art and whether you buy or not, this gallery is a joy to experience.