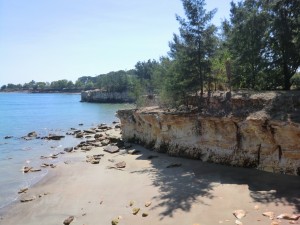 Dawn during the wet season is a favourite time to walk.  Head out to East Point and the picnic area at Dudley Point (also a great sunset watching and picnic place) A cool breeze blows in from the ocean.  The waves lap gently onto the rocky beach and the birds wake up with the sun.  Often there is no one else about.
Follow the coastal pathway clockwise around the headland past the equestrian centre.  Horses lazily graze in the shade and turn an idle nose towards us.  They must have the best views in town. On past the Military Museum, the path has started to disintegrate; erosion has left the roots of casuarina trees dangling in mid-air, so be careful. Just continue in a clockwise direction, heading back towards the new Defence of Darwin Experience to retrace your steps back to Dudley Point.
Back at the entrance to East Point Reserve, stop and admire the beautiful sculpture by Aly de Groot.  The piece is called Intertwined and is a bronze sculpture of two jellyfish.