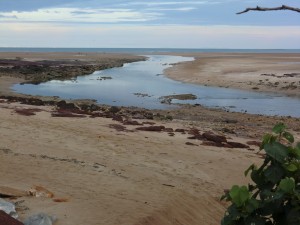 Early this morning, I wander along the beach at Nightcliff. It's the wet season and the sky is threatening to unleash a welcome storm. The white caps gallop towards the shore and the clear aquamarine sea is daunting and dark. The wind picks up and the palm trees cavort in the wind. Shades of ominous grey clouds mottle the sky. So far the sun still sleeps.
The sealed pathway closely hugs the beach, edged with pink, grey and creamy rocks to form a wall.  It's crowded with bikes, walkers, prams and runners, all on a mission before the heat of the day.  Even the dogs love the cool.  They madly dash up and down the banks of the creek.
It's Sunday morning so next I headed to Rapid Cliff Markets for a coffee from Christo and to browse the Asian stalls, overflowing with exotic weird looking vegies and fruit.  I could be in another world!