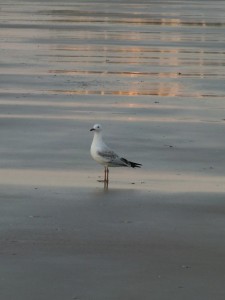 The weather is getting steamier and there's still not much sign of rain but down on the wharf the breeze keeps me cool.
I stand alongside the rails and wait for the sun to rise.  Seagulls squabble over the fishy remains, boats are silhouetted in the pale dawn light and the water is just slightly rippled as the early morning breeze dimples the surface. It's just before dawn, the best time of the day for a walk especially during the wet season.  Pale pink and grey clouds curve like peacock feathers, the lights from East Arm glow like stars and a tiny crescent moon stands out alone.
There is no-one else around, just me the seagulls and the view.