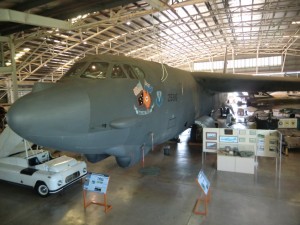 Last week I drove around the peninsular of Darwin. My first stop was the northerly point, Casuarina Coastal Reserve at lunch time.
Under the shade of the Casuarina trees, the picnic delights included manchega cheese, a pungent sheeps cheese from Spain and a crusty loaf of bread from Alley Cats.  Casuarina trees waved their narrow leaves in the breeze, a dog rushed past on it's way to the beach, a couple of fishermen arrived in their ute.  Other than those couple of people, there's just us and the sea.
The next highlight was the Aviation Museum where a massive B52 extends its wings the whole width of the hanger with only a few inches between the fin and the steel roof girders. This centrepiece shows off over 19 different planes plus bits and pieces of wreckage, storyboards and aero memorabilia.
It was then back to the Waterfront for a classic chocolate ice cream from Trampoline.
This is a great day out during the wet season.